Department of Medical Psychology and Psychiatry of SMS - Unicamp received students from France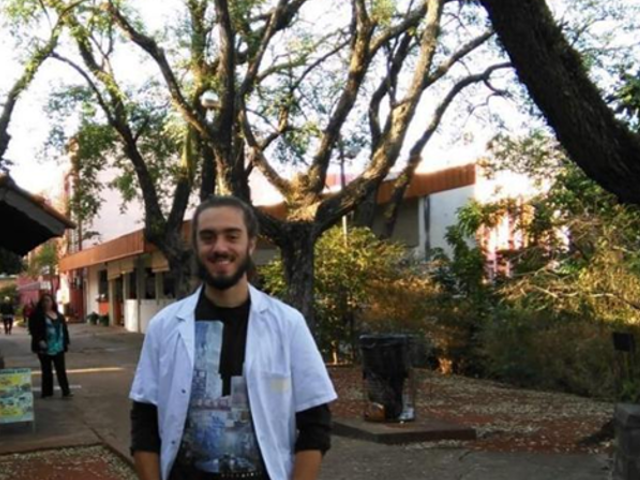 In September, Ivan Louçano, a French graduate medicine student, future resident of psychiatry in France in the city of Grenoble, did an internship at the Department of Medical Psychology and Psychiatry, School of Medical Sciences (SMS), University of Campinas (Unicamp), during six weeks. Indeed he wanted to have this experience before the post graduation to develop his Portuguese (his father is portuguese) and have an international experience in this area. He knew about the Unicamp through a friend studying medicine in Sao Paulo. It took place during the months of August and September, in various activities of the Department of Psychiatry from School of Medical Science (SMS) with professor Renata Cruz Soares de Azevedo.
His role was mainly observation of outpatient clinics of patients with eating disorder, mood disorder, anxiety, addiction, psychotic patients, homeless patients, teens, child, infants, elderly, sexual violence, but also in the Psychiatric Unit, and theoric classes. Ivan said he was very well received, and that it was great to participate in the psychiatry activities of the HC.
"I took the opportunity to learn a lot from the teachers and residents, not only in scientific knowledge but also in humanistic approach, attention to the humanities and pedagogy. I am impressed and happy to see the closeness between teachers and students / post graduated students, and the quality of supervision.I return to France with gratitude to the students, health professionals, and administration staff found during my stay, and with experiences and reflections that will stay with me in the psychiatry post graduation and beyond", said Ivan.
Philosopher and art therapists
In September, the Philosopher of the Université Toulouse Jean Jaurès França, and social care volunteer, Alitzel Velasco Burgunder, had the chance to discover very different places where professionals from psychiatry, psychology, occupational therapy and other specialties work together to explore the possibilities of a better care in the field of mental health in and around Hospital de Clínicas (HC) and the Department of Medical Psychology and Psychiatry of SMS - Unicamp.
In the street ambulatory, she saw the efficacy of looking to treat people living in the streets. If their situation can seem unsolvable from the outside, it is clear that a medical care is necessary as an improvement of their life and their reintegration in society with a life they are worth living. In the psychosocial care center she participated in a group of theater where the occupational therapists organize activities for the persons who were or still are in the streets because of drugs or alcohol.
Through theater the participants have a time and space where they can express themselves, develop their imagination and creativity, work in a team and develop social abilities while having fun in a healthy way. In the hospital, she participated in the Gender Ambulatory. The therapists are all volunteers receiving and accompanying children and teenagers who define themselves as transgender or are questioning their sexuality and identity. If this is evidently not an illness, it is necessary to take it into account because of the problems it can bring: non acceptance by the family, suicide attempts, depression, anxiety, etc.
Alitzel participated in an art therapy session with two patients already in treatment, who are working in the acceptance of their physical appearance. She shared with them her own experience with the stereotypes of what are male or female characteristics and the importance of questioning this duality. With the group of art therapists, Alitzel presented her philosophical work about the sentiment of anxiety due to existential questions in the form of a theater play.
This has led to discussions about how to deal with patients who have attempted suicide and the importance of not avoiding the question. She would like to thank all the people she met during this month for letting her discover their work and participating in the therapies, but most of all thank them for the work they are doing, trying their best to accompany others in their sufferings and helping them understanding their life better and therefore making their lives less difficult.